September 2, 2021
Why Choose Career Academy of Beauty?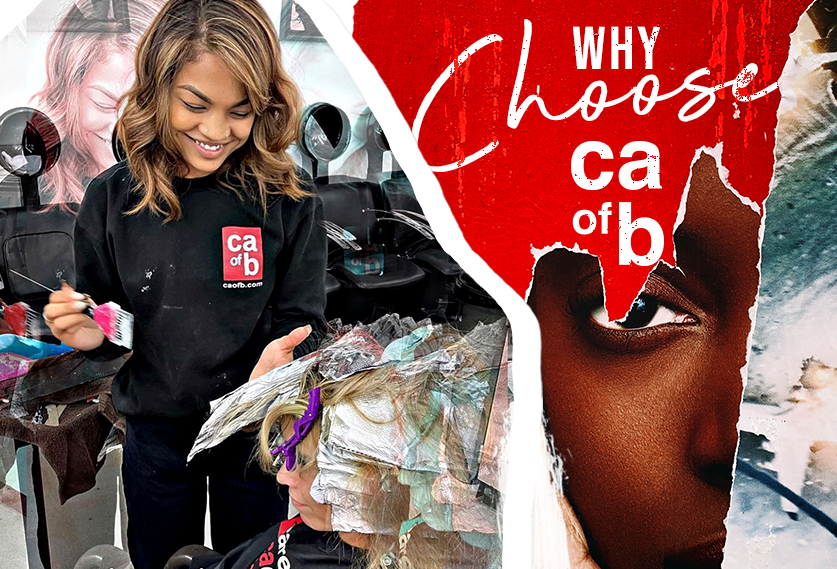 If you're reading this, you probably decided to invest in yourself and go to beauty school. Congrats! That's a big step toward reaching your dreams. It's important to find a beauty school that fits you and will prepare you for the future.
Career Academy of Beauty (CAofB) has been training future beauty professionals for over 50 years. We know what it takes to help our students make a future for themselves in the beauty industry. Our goal is to give our students the education and training they need to thrive after graduation.
There are a lot of beauty schools to choose from. Here are a few reasons why CAofB could be your perfect beauty school!
1. Our Experienced Staff and Instructors
When picking a beauty school, it's important to consider the instructors and staff who will help you on your journey. Do they have the industry expertise to help you reach your potential?
At Career Academy of Beauty, our instructors and staff have years of experience in the beauty industry. Our Director of Administration, Coral Trujillo, has been in the industry for 38 years! We believe that experience is one of the best teaching tools. Our instructors strive to use their expertise to help students like you become talented beauty professionals.
To learn more about our instructors, reach out to us and ask about our experience!
2. Our Programs and Training
It's crucial to pick a beauty school that has a program that can help you achieve your goals. At CAofB, we offer a variety of programs to help train future beauty professionals.
We offer:
While it's important to find the right program, you should also find a beauty school that gives you the tools you need to grow. Our biggest goal is to help students succeed as beauty professionals after graduation.
Some of the ways we stand out in helping our students are:
Advanced Education
Our Advanced Education is exclusive to Career Academy of Beauty senior students and those who have a professional license and can help you grow in your field and build your confidence. You can learn in-demand skills like lash lifts and extensions, MUD makeup application, hair extensions, and more to keep your clients coming back.
Nuts and Bolts Business Training
While knowing the skills of your craft is essential, all beauty professionals should understand the business side of beauty, which could open up the potential to grow your clientele faster and even own and run a salon one day. Our Nuts & Bolts business training can teach you the business skills you need as a beauty expert, such as how to capitalize on the technical skills you've learned, customer service and leadership skills, and how to grow your business.
Sassoon Cutting and Coloring
Our Sassoon Cutting and Coloring curriculum offers students a chance to work with a premium product line and is committed to teaching excellence in cut and color. Our goal is to help students feel confident providing clients with high-quality services upon graduation.
By using these resources, we aim to give our students the knowledge and tools they need to make their mark on the beauty industry.
3. Our Vibe
Culture is part of the learning experience. We understand it's hard to learn at a school that you don't vibe with. At CAofB, we strive to create an environment that is fun, welcoming, and a great place to learn. We also truly care about our students and their success. Coral Trujillo loves our atmosphere and says our vibe is "positive, trendy, friendly, caring and fun!"
We want you to have fun as you prepare to take on the beauty world! Seeing our students making friends, bonding with clients*, and gaining confidence is why we love our jobs. Joy is a trend that is always in style.
If you would like to check our vibe, schedule a tour! We would love to meet you and answer any questions you may have.
4. We Help Students After Graduation
Our students are our top priority. That doesn't change after we hand them their diploma. At CAofB, we know graduating from beauty school is just one step of the journey. We want to help you take the next step after graduation: finding a career you love.
After graduation, we can help you with:
Career Placement
Job Interview Prep
And More!
We love seeing our students reach their full potential in the beauty world. Let us help you step into your beautiful future!
Visit Career Academy of Beauty
If you want to go to a beauty school that has industry experts and a fun vibe, you should check out Career Academy of Beauty!
Schedule a tour of our campus and see for yourself. Meet our instructors, talk to our students, and picture yourself at CAofB! We would love to get to know you and show you how we can help make your future beautiful.
If you want to see what we're up to, visit our Facebook and Instagram! Stay up-to-date on events and see some amazing student work.
See you soon!
*All services provided by students under the supervision of licensed professionals.