February 8, 2022
What Is Esthetics?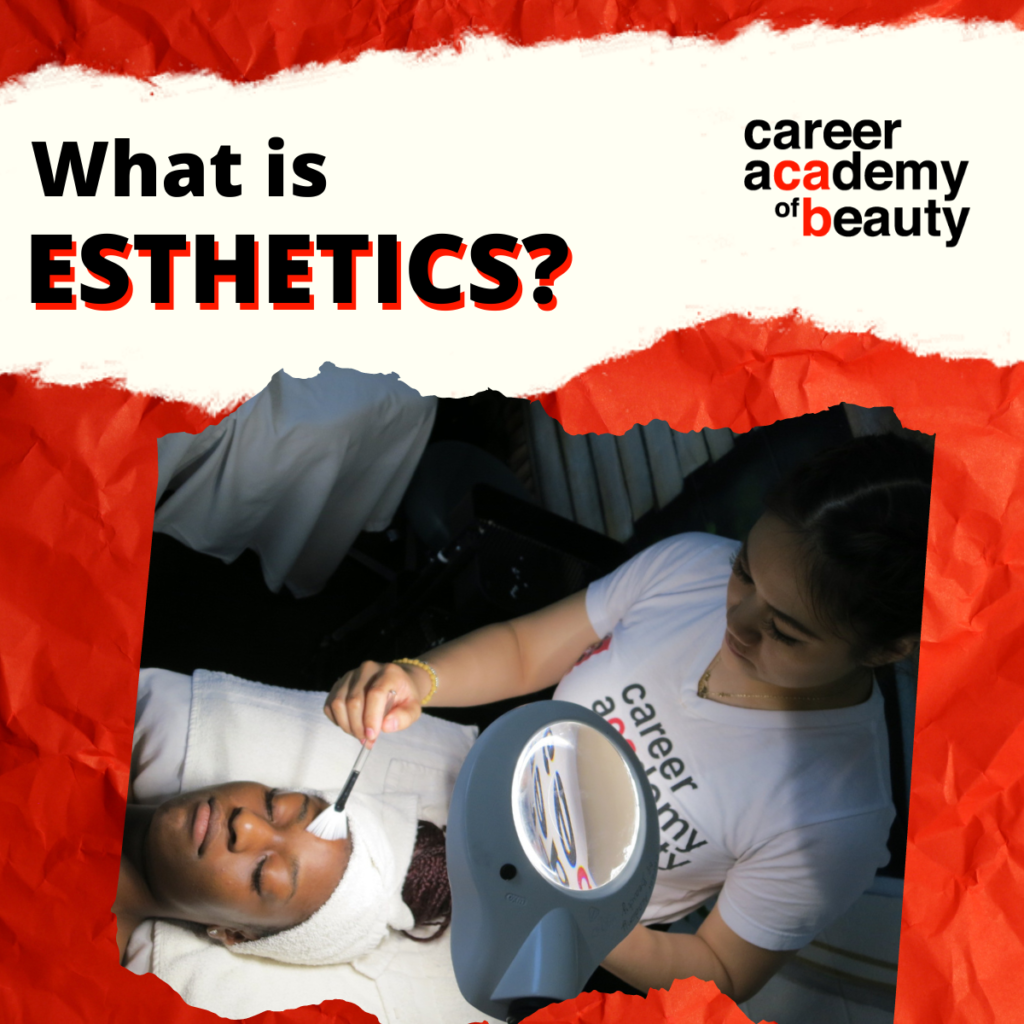 If you have ever had a spa facial or cosmetic skincare treatment at a dermatologist's office, chances are your service was performed by an esthetician. Estheticians are specialists in providing spa skincare services focused on improving the health and appearance of the skin. If you have a passion for helping others feel good and you love all things beauty, esthetics may be the right field for you. To better understand what an education at esthetician school has to offer, continue reading for a breakdown of this sector of the beauty industry.
What Is Esthetics?
Esthetics is part of the beauty industry, but it is closely linked to health and wellness. The appearance of one's skin can say a lot about personal health. Therefore, estheticians work at the crossroads of health and beauty, providing their clients with skincare services that address a wide range of skincare concerns.
Esthetics is a growing field, as new technologies and procedures are developed all the time to improve the appearance and structure of the skin. And, just like any other part of the beauty industry, esthetics is influenced by style trends as well. Because the field includes services like eyebrow shaping and makeup application, estheticians need to be constantly aware of which looks are trending on the runway and in everyday life.
Skin Analysis
Any esthetician must understand the structure of the skin as well as the different skin disorders that can affect its appearance. Common skin concerns addressed by estheticians include acne, scarring, rosacea, wrinkles and other signs of aging, and sun damage. By studying esthetics, you can learn how to assess and map the skin so that you can recommend the right treatments to your clients. There are many different skin types and skin disorders, so it's essential to gain a deep understanding of how the skin works and how it will respond to different treatment options.
Facials and Peels
Spa facials, chemical peels, and masks are all common esthetic services that may be performed in salons, spas, cosmetic surgery clinics, dermatology clinics, and med spas. These treatments include topical application of different serums, moisturizers, and other chemical solutions to balance and nourish the skin and improve its appearance.
Hair Removal
Esthetics also involves hair removal, primarily through skin waxing. Done incorrectly, skin waxing can cause significant damage and irritation to the skin. With the right techniques, however, waxing can leave the skin soft, smooth, and free of unwanted hair. Waxing may involve complete hair removal in a given area, such as the neck or upper lip, or it may involve carefully sculpting hair patterns in a given area like the brows or bikini line.
Makeup Application
The world of esthetics also includes a creative space with makeup application. Estheticians may apply makeup for everyday looks, special occasions, or runway fashion shows. If you have an eye for color and enjoy bringing out your own best features by experimenting with different makeup styles, esthetics may be a field where you can find your true calling.
Skincare Recommendations
Spa services can only do so much to improve the skin. At-home skincare routines make a lasting impact, so estheticians must be able to recommend the right products to clients and show clients how to use them properly. In many work environments, estheticians are incentivized to upsell skincare products with commissions on sales.
How Do You Get an Education in Esthetics?
If the field of esthetics is calling to you, the first step in honing your skills is attending an esthetics school like Career Academy of Beauty – CAofB. Attending a full-time program, you can complete esthetics training in as little as 4.5 months. Most beauty schools also offer part-time programs with more flexible scheduling, and these programs may be completed over 6.5-8.5 months. Before you enroll in a program, it's important to schedule campus tours at prospective schools and talk to admissions staff about enrollment requirements and financial aid* options. Esthetics school begins with classroom learning, but most of your training will be hands-on. Practicing your new skills both on mannequins and real clients in the student salon** is a must for preparing to sit for the California State Board licensing exam, which will allow you to practice professionally.
Why Choose CAofB for Your Esthetics Training?
CAofB goes beyond California's minimum State Board requirements to prepare students to deliver innovative specialized skincare. We also emphasize business training as a Nuts & Bolts member school, so you will gain the knowledge you need to market your skills and maybe even own your own salon one day. Our instructors have more than 50 years of combined experience training beauty professionals, and we maintain strong relationships with salons and industry experts throughout Orange County. 
Are you ready to explore an education in esthetics? Touring our campus is the first step. New classes begin year-round, so you can apply for enrollment at any time. Call (657) 425-0182 or text "beauty" to 313131 to schedule your tour. 
*Financial aid is available to those who qualify.
**All services are performed by students under the supervision of licensed instructors.