August 17, 2021
How to Prepare for Beauty School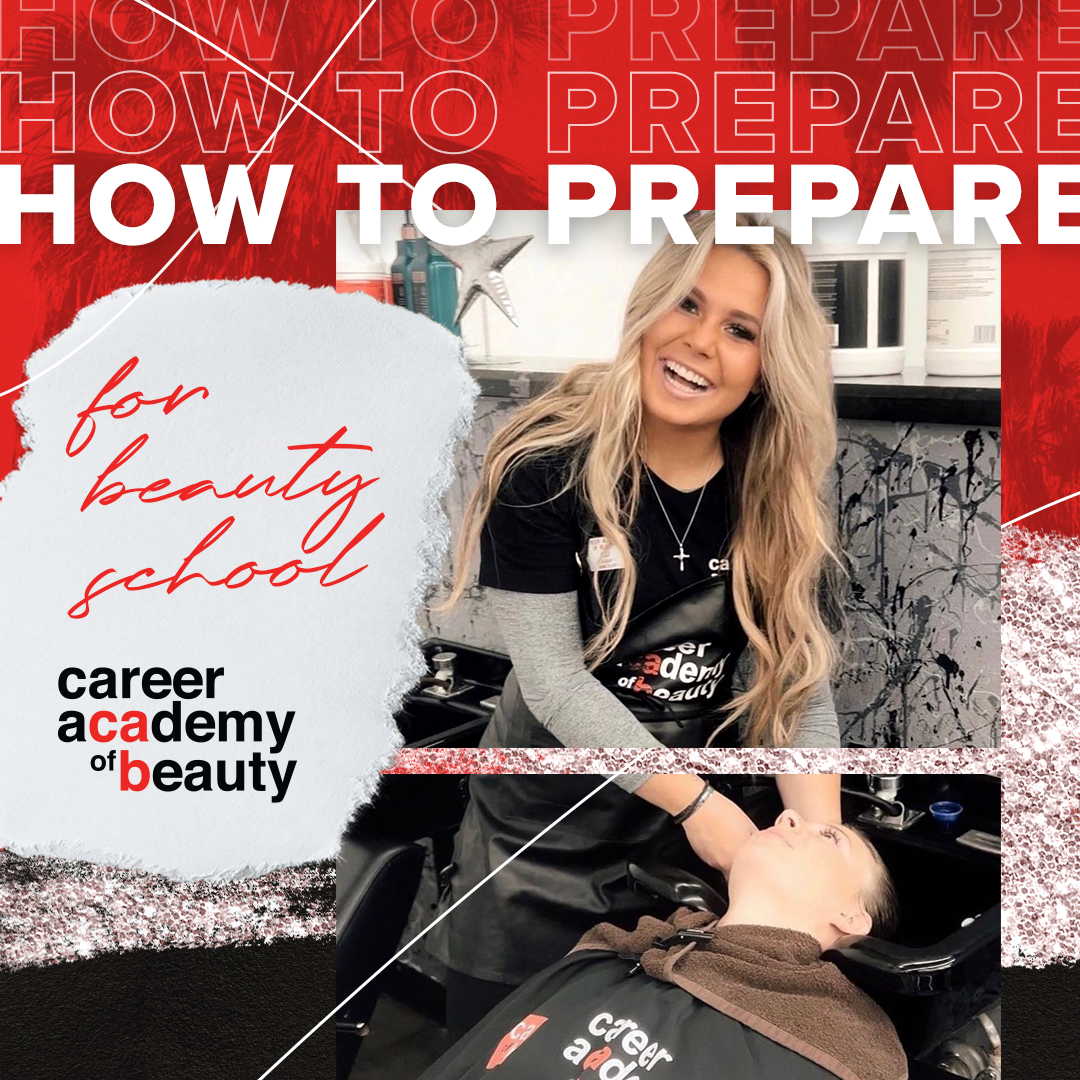 Deciding to enroll in beauty school is a huge step towards a rewarding career. You will learn all kinds of incredibly valuable skills, from hairstyling to makeup artistry to skincare. Plus, you get to experience all of these things in a school with other like-minded, creative students. And as if that isn't enough, you will have the opportunity to enter an ever-growing job field. According to the US Bureau of Labor Statistics, the job growth rate for cosmetologists and hairstylists is expected to grow by nearly 11% over the next nine years!
But your very first step is of course enrolling and completing beauty school. Getting ready to start your training is fun and exciting – but it can be nerve-wracking. You are making the first step towards your future career, so you want to be prepared! But you need much more than the traditional notebooks and pencils to get ready for your classes.
Here's what you need to do to get ready for beauty school:
make sure your beauty school is the right fit
First of all, you want to double-check that you are attending the right school for you. There are plenty of beauty schools around the nation that will help you meet the minimum standards to become a beauty professional. However, not all of these schools are created equal.
You have to consider the most important factors that will impact your education and training. It is highly recommended that you attend a beauty school that offers a student salon for hands-on learning. This allows you to gain valuable experience working with all types of clients so you can practice all of the skills you learn in the classroom in a salon environment.
You should attend a beauty school that does all it can to help its students succeed. Unfortunately, some beauty programs are focused on providing the bare minimum training. Many are solely focused on preparing students to take the state licensing exam. Instead, your school should be preparing you for the exam AND to become a well-rounded professional in the beauty industry. This involves providing comprehensive training, including career prep, educational technology tools, and mentorship.
Why Choose Career Academy of Beauty?
At Career Academy of Beauty, we offer programs in Cosmetology, Esthetics, Cosmo/Barber, and Teacher Training. The program you enroll in will heavily impact your future career, so you want to be sure it can teach you the skills that will land you your dream career. We want all our students to succeed, which is why we offer:
Externship opportunities:

Eligible senior students can extern at local salons to gain hands-on experience in the field.
Job placement assistance:

We have long-lasting relationships with salon and spa owners and offer a real-time career placement list of salons looking for employees.
Schedule A Tour
It's important to  schedule a tour of the campus before deciding which school you will attend. A tour is a great place to:
See our facilities

Ask any questions

Begin the application process

Find out if you qualify for financial aid
We will show you around our gorgeous school and student salon and let you see what day-to-day classes look like! A tour also gives us an opportunity to learn more about your goals and see if we're a good fit for you.
check your school's prerequisites
Before the first day of school rolls around, make sure that you have all of the supplies you need. Beauty school has a whole different set of school supplies, and you need to make sure you've got everything on hand. Most beauty schools will provide you with a list of items you need to bring with you on the first day of class. Many also provide pre-made kits. This ensures that everyone has all of the items they need, such as shears, brushes, and mannequin heads.
But, there are some additional items you may want to pack, such as:
Notebooks and pens to take notes

Textbooks 

Labels to put on your supplies

Clothes that fit into the dress code, including comfortable shoes (some schools require students to wear specific colors or even uniforms)
Finally, the admissions department may need you to bring paperwork into the office on the first day of class. Be sure to ask them ahead of time so you are totally prepared!
get your financial aid in check
Before you start school, make sure that you are receiving all of the financial aid you qualify for. There are many *financial aid options available for beauty school students that are offered through the federal and state governments. Most students will start by applying to FAFSA (Free Application for Federal Student Aid), which will cover portions of tuition costs to students who qualify.
You should also get in touch with your school's financial aid department to see which grants, lending programs, or scholarships are offered. Since CAofB is a nationally accredited school, our students can participate in Title IV Financial Aid Programs. We are proud to offer numerous grants and even an institutional scholarship to eligible students!
get ready to have fun and learn!
Remember that while first-day-of-school-jitters are natural, there is no reason to be nervous. You will be enrolling in classes with other like-minded students in a unique learning environment. Beauty school classes are far more focused than traditional college courses, so you'll be diving right into topics related to your career.
Take time to relax and enjoy the ride. You're only in beauty school once and it's a unique experience that you'll get to look back on one day. 
are you ready for beauty school?
Going to beauty school is an exciting time in your life! Plus, you know that you are taking a step towards a rewarding career. Taking the steps to prepare and ensure you are attending the right beauty school can make it a far better experience.
If you are interested in enrolling in a beauty school, we invite you to schedule a tour of the CAofB campus. We have helped thousands of students get a head start in their successful careers through our unique approach to training. Will you be next? Reach out to us today!
*Financial aid is available to those who qualify.