October 4, 2022
What to Expect On Your Beauty School Tour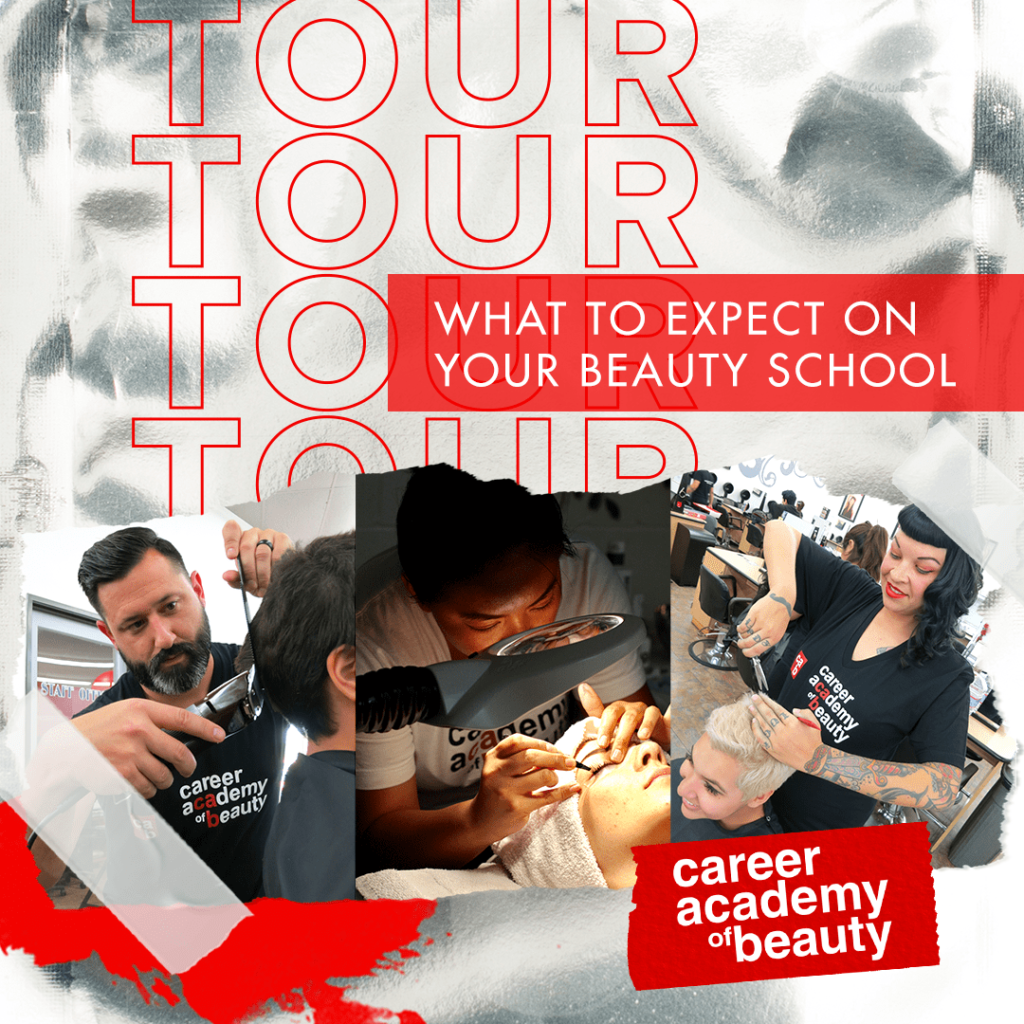 If you're thinking about going to beauty school, scheduling a tour should be the first step! Beauty school is a big deal and choosing which beauty school to attend is an even bigger deal. As you move forward with your beauty school journey, everything may seem overwhelming. There's so much information to take in and so many questions you may have. Scheduling a tour is an amazing way to get to know a school, answer your questions, and envision your future cosmetology school experience. Here at Career Academy of Beauty (CAofB), we're aware that checking out a school online isn't the most ideal way to get to know a school. So we invite you to experience our school with a tour!
Scheduling a tour is an important part of the enrollment process because it allows you to get to know us and vice versa. We encourage all our future students to take a tour before they apply. This is a great opportunity for us to learn about you and your goals and know if our school is the best fit for you. And you'll be better equipped to make an educated decision on if we're the right fit for you as well.
What you should bring
A tour can be loaded with lots of information, so we recommend you bring a pen and paper. You can take notes on what you like about the school, pros and cons, and write down answers to questions you may have had. As you jot down notes, you will be able to reflect on the tour and make the best decision for yourself. We also recommended you bring a trusted friend or family member. They can provide support as well and help you feel comfortable in a new environment.
Now that we've covered what you should bring, here are a few things you can expect at the tour:
See our facilities
You'll see our campus. We'll walk you through the classrooms and give you more details about what you can expect when you attend. You'll be able to interact with teachers and students and hopefully you'll see that you fit right in. Our teachers were once students, and they know exactly how you are feeling. You can take some time to get to know them and ask questions. Observing current students is also an important part of the process. This will help you better understand student culture and also picture yourself as a student.
Ask any questions
This is the perfect time to ask any and all questions. Make sure you take advantage of the opportunity and ask all the questions to make an informed decision for yourself.
Some questions you can ask:
What programs are available?
What can I expect to learn in each program?
What are the application requirements?
What does a day in the life of a student look like?
When do classes start?
What is included in the student kit?
Begin the application process
Now that you've toured the facility and can envision yourself at CAofB, it's time to start the application process. We can help you begin this process and answer any questions you have about the application.
Find out if you qualify for financial aid
One of the most common questions between students is how they will pay for school. We know beauty school is an investment and we want to do everything we can to help you make the best decision for yourself. That's why we offer financial aid*. At the tour, you will find out if you qualify for financial aid. We have a financial aid office with consultants ready to assist you in your specific needs, free of charge.
We are nationally accredited to take part in Title IV Financial Aid Programs. Here are some options you could qualify* for:
Pell Grant: Based on the need of the student and does not need to be paid back
SEOG: Based on the funds available and needs of the student and does not need to be paid back
Direct Lending Program: Subsidized and unsubsidized student loans available to assist parents in paying for students tuition
Institutional Scholarships: Up to $2000 for eligible students
Not all financial aid options are listed above, but that gives you a good idea of what we can offer.
*Financial aid only available to those who qualify.
Schedule your tour now
We want you to get the most out of your experience. Now that you know what to expect on your beauty tour, reach out and get it scheduled. Meet our instructors, talk to current students, and envision your future with us at CAofB. We can't wait to meet you!