January 26, 2022
What Is the Difference Between Cosmetology and Barbering?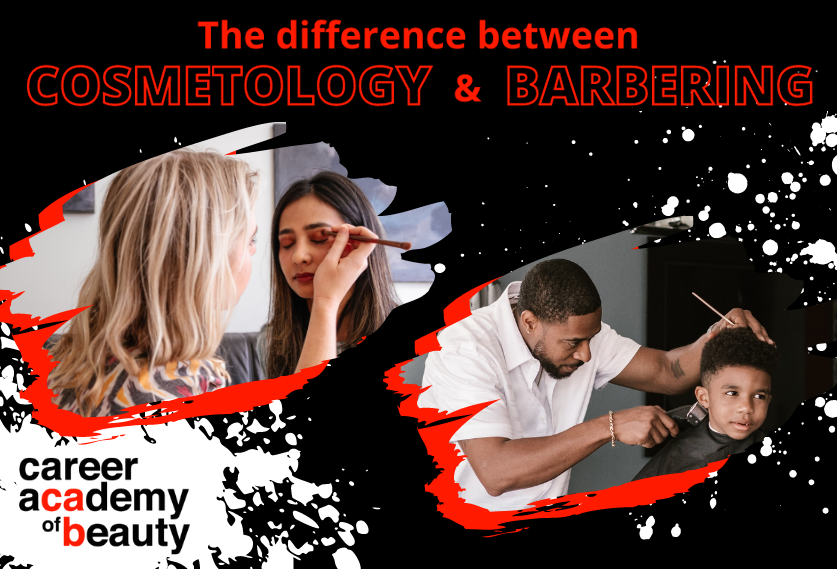 If you are seeking an educational path that caters to your creative skills and your passion for working with people, the fields of barbering and cosmetology may appeal to you. Both barbers and cosmetologists work directly with clients to provide hair cutting and styling services. However, cosmetology also includes skincare, makeup, and nail care, while barbering delves into hair care services that are not part of a standard cosmetology program. If you aren't sure which field may be most appealing to you, continue reading for a closer look at the differences between them.
You may ultimately find that dual licensing in both barbering and cosmetology is the right path for your goals. In this case, you'll want to explore the CosmoBarber Crossover program at Career Academy of Beauty. With this program, you can complete your necessary training in as little as 1800 hours, saving you time and money in your career-focused education.
What is cosmetology?
Cosmetology is often associated with haircare, but it also focuses on beauty treatments for the skin and nails. If you know you have a passion for beauty and want to help others feel good about their appearance but aren't sure exactly how you want to serve your future clients, an education in cosmetology may be right for you. An accredited cosmetology program can help you identify specific areas of beauty care that you enjoy most and sit for a licensing exam that allows you to provide a broad range of different services. 
Education and Licensing
In the state of California, cosmetologists must sit for a state licensing exam before practicing their craft professionally. Attending cosmetology school will help you attain the knowledge and skills needed to sit for the state exam. Cosmetology school combines both classroom learning and hands-on experience providing services under the direct supervision of licensed instructors. You'll find that cosmetology school offers greater flexibility than traditional educational programs, as it can be completed on a full-time or part-time schedule.
Skills and Services
Cosmetologists need to become familiar with numerous techniques in beauty treatments, including cutting and coloring, Brazilian blowouts, hair straightening, hair extensions, manicuring, pedicuring, applying acrylic nails, makeup application, and professional skincare. However, cosmetologists also need to develop their business savviness so that they can attract new clients, market their services, and maybe even run their own salons. Career Academy of Beauty offers a cosmetology program that covers all these essential skills and emphasizes real-life practice—about 70% of your time in our program will be spent styling mannequins as well as real clients in our student salon.*
What is barbering?
Traditionally, barbering is associated with men's hair care services. However, modern barbers serve all types of clients, including women. Still, barbering includes skills that are not necessarily part of a cosmetology education, such as shaving, beard trimming and styling, and men's haircuts. Unlike cosmetology, barbering does not emphasize skin and nail care—it's focused exclusively on hair care and men's grooming.
Education and Licensing
In the state of California, you must have a minimum of 200 hours of training on top of cosmetology training to become a barber. However, you may desire to seek more hours of training beyond this minimum to practice the full range of skills of this profession. Like cosmetology school, barbering school incorporates classroom learning and hands-on practice.
Skills and Services
Barbering is all about hair care, but it does not focus on all types of cuts and styling. Barbers focus mostly on short hairstyles like fades and pixie cuts. They may also learn basic coloring techniques, but do not explore the extensive range of chemical treatments included in cosmetology programs. Styling techniques are also different for barbers. There isn't as much use of tools like hairdryers, curling irons, and straighteners—instead, barbers utilize more products like texturizing sprays, hair serums, and leave-in conditioners to style clients' hair.
Can you become licensed as a cosmetologist and a barber?
It is possible to become dual-licensed as a cosmetologist and a barber, and you don't necessarily have to complete a full barbering program on top of your cosmetology education to achieve this goal. A cosmetology program requires 1600 hours of training, while a full barbering program requires 1500 hours. However, the CosmoBarber Crossover program at Career Academy of Beauty only requires 1800-2000 hours, depending on the depth of training you want to receive. You may choose to complete a 200- or 400-hour barber crossover course on top of your cosmetology training, or you can add a 300-hour cosmetology crossover course to your barber training. 
Dual licensing can help you develop a wider range of skills, which can translate to a larger client base as well as the availability of more career opportunities.
Why choose Career Academy of Beauty?
Along with flexible programming, Career Academy of Beauty offers an educational experience backed by a 50+ year legacy of teaching students. Our dedicated instructors foster a fun and immersive learning environment where you can harness your creativity and cater to your passion for hair care and beauty services. Our curriculum incorporates several industry-recognized methodologies, including Sassoon Cutting and Coloring, Wella Color, Nuts + Bolts Business Training, Brazilian Blowout, Milady, Image Skincare, and Dermalogica. 
If you're ready to explore a cosmetology education or you want to get started with our CosmoBarber Crossover training, schedule a tour at our Orange County campus by calling (657) 425-0182, or text "beauty" to 313131. 
*All services performed by students under the supervision of licensed instructors.