May 26, 2023
How to Write a Cosmetology Resume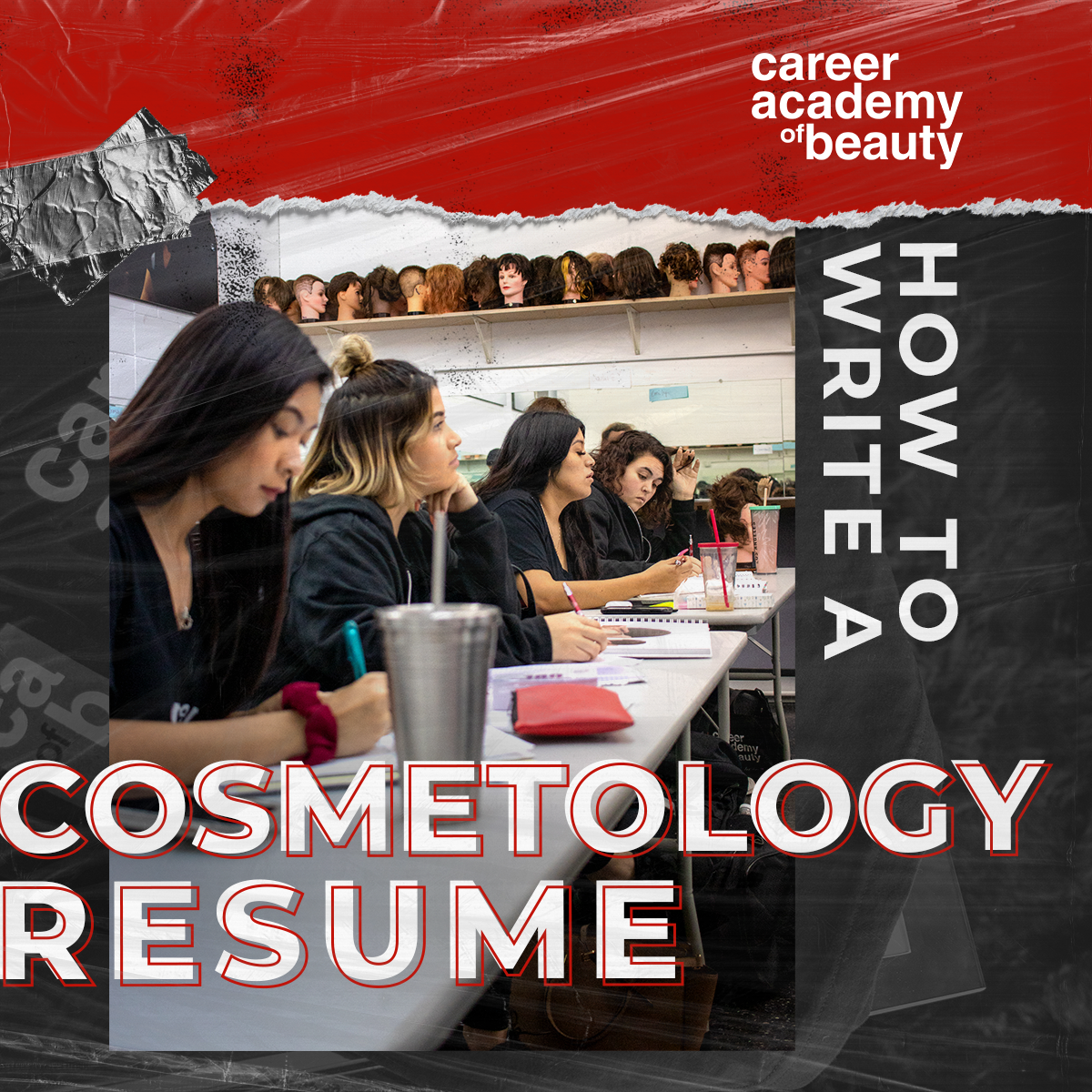 You've done the work and now it's time to apply for jobs! Your cosmetology resume is your ticket to a new job in the beauty industry. This is your chance to showcase your skills, experience, and education in a way that stands out and will impress potential employers.
Whether you're just starting out in the beauty industry or are a seasoned professional, creating the perfect cosmetology resume can be overwhelming! That's why we've put together this guide to help you write a resume that can get you noticed by potential employers.
Start With Your Contact Information
First things first, start with the most important part: your contact information. This section should be its own clearly labeled section so that the interviewer can easily find it. If potential employers can't get a hold of you, what's the point of creating a resume? The first part of your resume should include your:
Name
Phone number
Email address
Portfolio/website
Social media (optional)
You can include your social media, however, that part is up to you! Your social media can be a great asset and can show that you can build and maintain an online presence. You can also showcase your work and use this as your portfolio. If you do decide to include your social media, remember to keep it professional and engage with your audience! Your social media should be a good reflection of who you are.
Highlight Your Education
The beauty industry is highly regulated and most places require cosmetologists to be licensed. It's important to include your education and certification details in your resume. We recommend listing the school you attended, the program you graduated from, and the date you graduated. Also be sure to include any relevant coursework or training you have completed!
Highlight Your Skills And Experience
After you highlight your education, the next section should focus on your skills and experience. List your previous jobs, including details of key responsibilities and accomplishments. Make sure to highlight any areas of specialization or expertise, such as bridal makeup, hair coloring, or skin care.
Highlight Your Achievements
You should also include any noteworthy achievements or awards that you've received throughout your career. This can include anything from industry recognition to specialized training certifications. It helps you stand out from other candidates and also shows that you're committed to growing and improving in your career.
Include References
Make sure to include any references you can on your cosmetology resume! These should be people who can vouch for your skills and work ethic. This can be any former employers, your instructors, or any colleagues you know in the beauty industry. Be sure to ask permission before listing them so that they can be prepared! Include their full name, job title, company, phone number, and email address.
Helpful Resume Tips
A well-crafted resume can help you stand out from the crowd and can help showcase your skillset. Hiring managers look through so many resumes that you want to make sure yours stands out.  Follow these tips to create a strong and professional cosmetology resume that can get you noticed and help you land your dream job!
Tailor Your Resume To The Job You're Applying For
Look at the job description and highlight the skills and experience the employer is looking for. Make sure to emphasize those skills in your resume!
Use Industry-Specific Keywords
Use terms and phrases that are commonly used in the beauty industry. Many employers use applicant tracking systems and this can help your resume get picked up by them.
Use A Clean And Professional Format
Keep your resume simple and easy to read, using bullet points and short sentences to make it easy to scan. Use a professional font and avoid using bright colors or graphics.
Proofread and Edit Your Resume
Make sure to always proofread and edit your resume carefully, checking for any spelling or grammatical errors. We also recommend having someone else read your resume to catch any mistakes that you may have missed!
Are You Looking For An Education?
Writing a strong cosmetology resume is crucial to landing your dream job in the beauty industry but so is an education! Schedule a tour with us and get more information on how you can become a cosmetologist. Feel free to contact us with any additional questions you may have. We look forward to hearing from you!