July 5, 2023
What's the Difference Between Beauty School and Traditional College?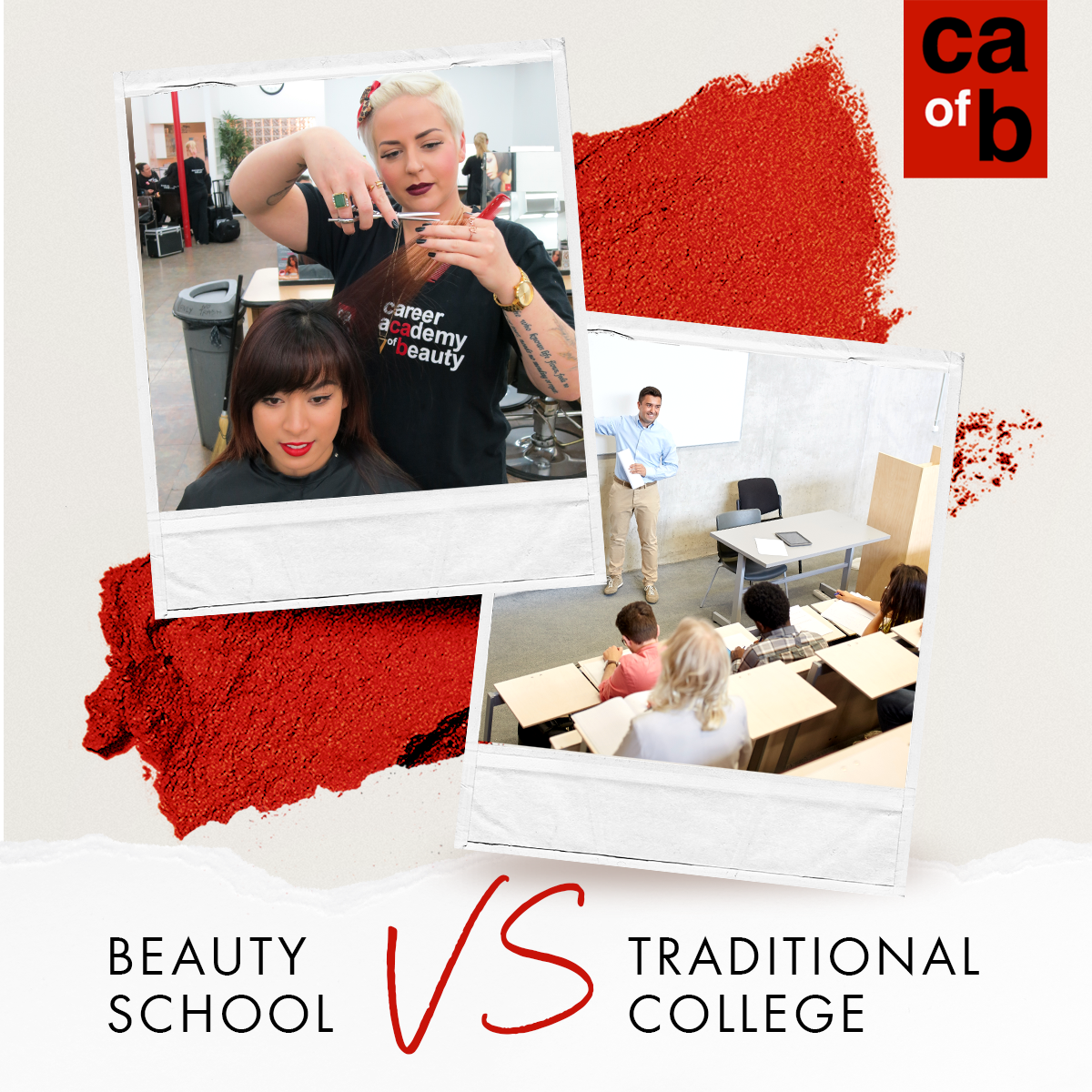 When it comes to pursuing education for your future career, choosing which school to go to can be difficult! There are many paths to choose from and it's not a one-size-fits-all solution. Traditionally, a four-year college has been the norm for many students. However, in recent years, alternative schools have gained popularity!
In this blog, we will explore the key differences between traditional colleges and beauty schools. We hope that with this new information, you can make the decision that's best for you!
Specialization
Beauty School
Beauty school focuses exclusively on providing training and education in the beauty industry. From cosmetology and barbering to esthetics, beauty schools offer specialized programs designed to prepare students to excel in their chosen fields!
At Career Academy of Beauty, we have programs in:
Traditional College
Traditional colleges offer a comprehensive educational experience that goes beyond specialized training. They provide students with a broad range of subjects to explore, allowing them to gain a well-rounded education.  From business to science to humanities, traditional colleges provide a different education and experience than can't be found at beauty schools.
Duration And Time Commitment
Beauty School
Beauty school programs can range from several weeks to several months, depending on the specific area of specialization. This shorter duration allows students to enter the workforce quickly and start pursuing their careers in the beauty industry.
Cosmetology: Graduate in as little as 7.5 months – 9.5 months!
Cosmo/Barber: Become a barber in as little as 8.5 months – 15 months!
Esthetics: The esthetics program is 4.5 months – 7.5 months.
Teacher Training: The time frame ranges from 4.5 months to 7.5 months, depending on which schedule is chosen.
Traditional College
Traditional college programs, on the other hand, require a more significant time investment, delaying entry into the job market. Depending on the career chosen, college can last anywhere from 4-8, or more years!
Practical Training And Hands-On Experience
Beauty School
Beauty schools pride themselves on providing students with extensive practical training and hands-on experience. The beauty industry is highly practical and skill-based, and beauty schools understand the importance of honing these skills through real-world practice.
In a beauty school setting, students have the opportunity to work with clients, practice various techniques, and gain confidence in their abilities. This hands-on experience is invaluable in preparing students for their future careers, as it allows them to apply what they have learned in a real salon or spa environment.
Traditional College
Traditional colleges often place a heavier emphasis on theoretical knowledge and academic coursework. While this approach can provide a solid foundation in many subjects, it may not offer the same level of practical training and industry-specific experience that beauty school programs provide.
Your Cost Of Education
One of the most important things students tend to consider is cost of education. Typically, the cost of a four-year college education comes at a greater cost than beauty school. The longer you're in school, the more money you'll typically have to pay. With beauty school being shorter, the cost should be less.
Here's how you can pay for your education:
Financial Aid: This applies to both traditional college and beauty school, but we highly encourage all students to begin the process by completing a Free Application for Federal Student Aid (FAFSA) form.
Scholarships: This also applies to both, and is highly recommended! For beauty school students, we suggest they look into Beauty Changes Lives to see what's available!
Are You Ready To Pursue Your Passions?
If you have a love for beauty and want to become a professional in the industry, contact us today for more information! We are more than happy to answer any questions regarding your education, *financial aid, and more. With more that 50 years of experience, we're confident we can help you pursue your dream career. We look forward to meeting you!
*financial aid only available to those who qualify