April 3, 2023
8 Common Beauty School Misconceptions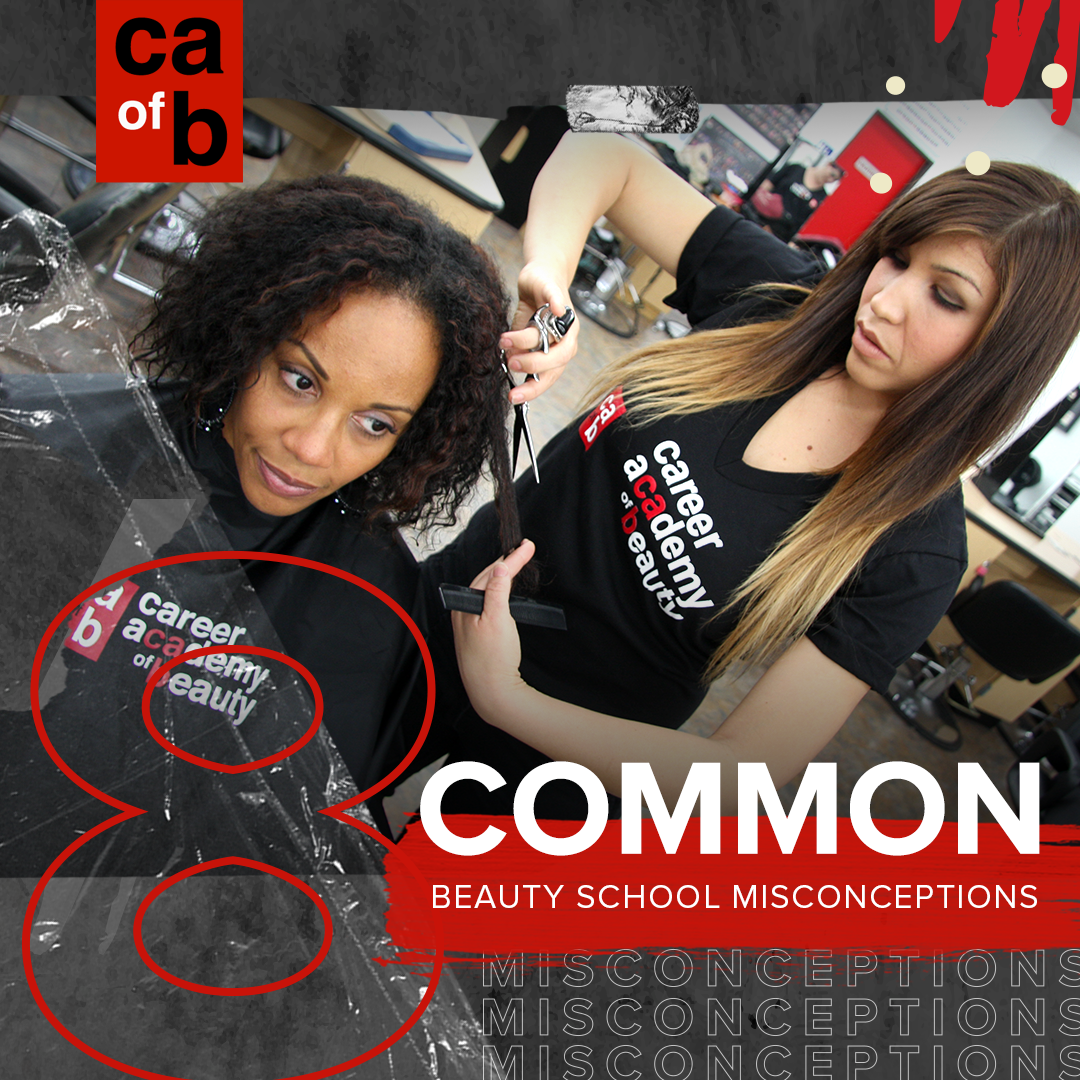 Are you considering a career in the beauty industry? Beauty school is often misunderstood, and there are many misconceptions that surround it. Many people have preconceived notions about what beauty school is like, what it entails, and what kinds of people attend it. However, these misconceptions can prevent people from pursuing a career in the beauty industry or from fully understanding the benefits of attending beauty school. In this blog, we're exploring some of the most common beauty school misconceptions and providing you with the facts and information you need to make an informed decision about whether beauty school is right for you. So with that being said, let's dive in and debunk some myths!
1. Beauty School is Just for People Who Want to Become Hairstylists
Contrary to general opinion, beauty school isn't just for aspiring hairdressers. In fact, there are many other career paths that can be pursued with a beauty school education. Career Academy of Beauty (CAofB) offers a variety of  programs that prepare students for different careers in the beauty industry such as:
At CAofB we strive to create an environment where everyone feels welcome regardless of their background or experience level. So, don't worry about feeling overwhelmed when walking through our doors because our instructors have years of expertise in helping anyone get up-to-speed quickly on all things related to the world of beauty.
Key Takeaway: At Career Academy of Beauty (CAofB), we provide students with a wide range of programs to pursue their passions in the beauty industry. From cosmetology, esthetics and teacher training courses, to more specialized classes such as Cosmo/Barber – our experienced instructors have all the tools needed for you to become an expert in no time.
2. Beauty School is Easy
To become a successful beauty professional, hard work and dedication are essential. Career Academy of Beauty provides students with the necessary skills and knowledge they need to excel in their studies. Our experienced instructors have industry expertise that can help students develop the essential skills needed for success.
At CAofB, we understand that each student has unique learning needs. That's why our comprehensive curriculum is designed to provide hands-on instruction tailored to individual abilities and interests. We offer classes in cosmetology, esthetics, cosmo/barbering, and teacher training so you can get the specialized education you need for your chosen field.
Beauty school is not easy and requires hard work, dedication, and determination. However, with the right resources in place, students can make their investment worthwhile.
"Don't let common beauty school misconceptions prevent you from achieving your dreams. CAofB provides the skills and resources needed to become a licensed professional in the beauty industry." #BeautySchool #CareerAcademyofBeauty
3. Beauty School is Expensive
Attending beauty school can be an expensive investment, but there are several *financial aid options available for students at Career Academy of Beauty. From scholarships to grants to loans, there's a way to make school possible without worrying too much about the cost!
Making the most of your investment in education requires careful planning and research. Start by researching all possible scholarship opportunities before applying to beauty school so you know what funding sources might be available to you. Considering the length of your program and associated costs, budgeting strategies should be established to ensure you have sufficient funds upon graduation. Finally, don't forget about other resources like job placement services that may be offered at Career Academy of Beauty – these could help make sure that when you graduate, you can have access to potential employers who value your skillset.
*financial aid only available to those who qualify
4. Beauty School is Only For Women
A very common beauty school misconception is that it's only for women. This myth is perpetuated by the stereotype that the beauty industry is female-dominated and that men don't have a place in it. However, that isn't true! In recent years, there has been a significant increase in the number of men attending beauty school and pursuing careers in the industry. Beauty school is a welcoming and inclusive environment, regardless of gender. Everyone is welcome to attend beauty school and learn the skills needed to succeed in the industry.
5. Beauty School is Only For Young People
Many people believe that beauty school is only for those who have just graduated high school or who are in their early twenties. Beauty school is a place where people of all ages can come to learn new skills and pursue a new career. Many people attend beauty school later in life as a career change or to develop new skills. CAofB provides an inclusive environment that welcomes everyone, regardless of age. The beauty industry is diverse, and it is important to have people of all ages working in it to ensure that it continues to grow and evolve.
6. Beauty School is Not a Real Education
This myth came from the belief that beauty school is just a place for people to learn how to do hair, makeup, and nails, and that it doesn't require the same level of skill and knowledge as other educational programs. Beauty school is a rigorous educational program that requires a great deal of skill, knowledge, and practice. Students learn about anatomy, physiology, chemistry, and business management, among other subjects. Graduates must also pass state licensing exams to practice in their chosen field, demonstrating their knowledge and skills. It's a real education that prepares students for a successful career in the beauty industry.
7. Beauty School is Only For Creative People
While creativity is certainly an important aspect of the beauty industry, it is not the only one. Beauty school also teaches students about business management, client communication, and the technical skills needed to perform various beauty treatments. While creativity is an asset, it is not the only thing that is required to succeed in the beauty industry. Beauty school is a place where people can learn the skills they need to succeed, regardless of their natural abilities. With practice and hard work, anyone can become skilled in the beauty industry!
8. Beauty School is Not a Viable Career Option
This myth comes from the belief that jobs in the beauty industry are low-paying and that it is difficult to make a living in the field. The beauty industry is a growing field with a high demand for skilled professionals and many professionals make a good living from it. Graduates from beauty school have a wide range of career options, including working in salons, spas, and even opening their own businesses.
Ready To Pursue Your Dreams?
By debunking these common misconceptions, we hope to encourage more people to consider attending beauty school and pursuing a fulfilling career in the beauty industry. So, don't let these myths hold you back. Explore your options and discover the possibilities that await you in the exciting world of beauty!
Take action today and contact us for more information on our programs here at Career Academy of Beauty – we're sure there's something perfect for everyone interested in this field. We can't wait to meet you!