March 22, 2022
How to Become a Cosmetologist in California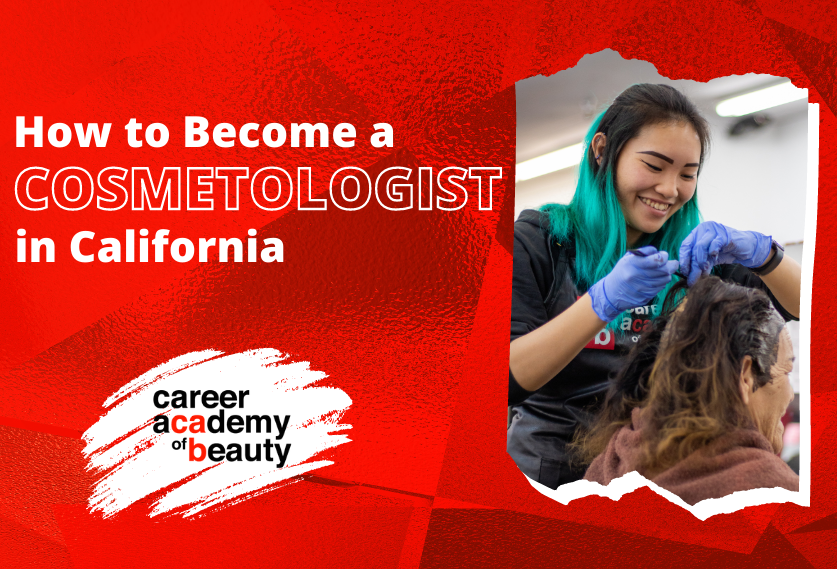 Have you decided you want to pursue your love for cosmetology? If so, you've got an exciting future in the beauty industry ahead of you! There are some steps you need to take to become a cosmetologist in California, but the process can typically be completed in just over one year. 
First, you need to graduate from cosmetology school and earn your licensure. After that, you'll be able to start seeking employment as a cosmetologist in California. Let's explore the steps in more detail.
Let's Dive In!
Attend Cosmetology School
Cosmetology school is where you will build the skills you need to prepare for your future in the beauty industry. Before attending an accredited school in California like Career Academy of Beauty, you'll need to have a high school diploma, GED, or pass a high school proficiency exam. To start the application process, you'll first want to attend a campus tour. This is your opportunity to get a feel for our school's culture, get to know our staff and current students, and get answers to any questions you have about our programs. You might even stop into the student salon* to get a cut or style during your visit! 
After you've toured our school and found that it's a good fit, you need to apply to the cosmetology program. Our admissions staff is here to answer any questions you may have during the application process. You may also apply for financial aid* to help you pay for your education. 
After you've been accepted into a cosmetology program, you'll have the opportunity to learn tons of exciting new skills. The curriculum varies from school to school, but here at Career Academy of Beauty, cosmetology students can learn:
Advanced hair cutting and coloring techniques
Hair styling
Keratin treatments
Nail services
Skin care
Makeup
Waxing
And more
Finish the Required Training Hours
You must complete at least 1,000 training hours to become a cosmetologist in California. Our cosmetology program includes a combination of classroom training and hands-on practice. This keeps the learning process fun by providing different ways for you to hone your skills.
As part of our cosmetology program, students get the chance to provide services to real clients in our student salon. Interacting with customers and using professional products can give students a better idea of what it's like to work in a salon. This type of practice also allows students to build their online portfolios with photos of their beautiful work on social media or their own websites.
Pass the State Licensing Exam
After you graduate from cosmetology school, it's time to sit for the state licensing exam. This is a written exam that will ensure that you've learned all the techniques and skills you need to properly serve your future clients. Once you've passed the test, you'll have your California state license. The California license is provided through the California Department of Consumer Affairs, and licensing requirements will vary by state. However, all states require a cosmetology license to become a professional hairstylist. 
Earning your cosmetology license is a huge accomplishment, and it means you're ready to get out into the field and start looking for a job! The connections you've made in beauty school can help you find your first gig as a stylist.
Explore Your Career Options as a Licensed Cosmetologist
While attending beauty school, you probably thought about what kind of job you hoped to get after graduation. Now you have the opportunity to pursue the career path of your choice.
You may seek a job at a salon as a hairstylist, makeup artist, or nail technician. If you had an externship at a salon while attending beauty school, you might see if they have any availability for a permanent position, since you'd already have your foot in the door.
Alternatively, you might network with local stylists to build connections that can land you a job. While job placement is not guaranteed, you may also look to your cosmetology school to help you find available opportunities and apply. 
You could even start your own salon if you want to run your own business and are ready to take that next step. Starting your own salon comes with its own set of challenges, but many people find this path to be uniquely rewarding.
Network and Build Your Brand
No matter which career path you decide to take as a cosmetologist, it's important to network and build your personal brand. Try your best to connect with people in the beauty industry and meet lots of potential clients, so you can continue growing your network. Also, remember to maintain a professional appearance and demeanour whenever you're interacting with people at work. In the beauty industry, you represent your brand, so your appearance and personality can go a long way. 
Start Your Cosmetology Education at Career Academy of Beauty
To take the first step towards creating a beautiful new future, contact the team here at Career Academy of Beauty. We'd love to tell you about our cosmetology program and help you schedule a tour of our campus in Garden Grove, California. We look forward to helping you pursue your passion for beauty!
*All services provided by students under the supervision of licensed professionals.
*Financial aid available to those who qualify.